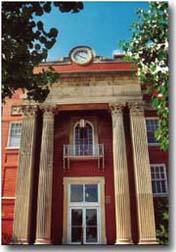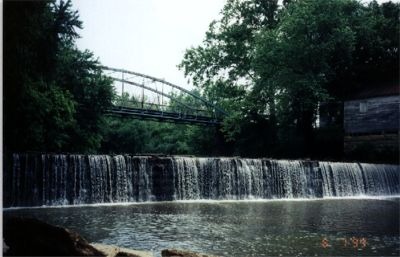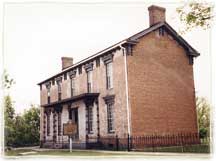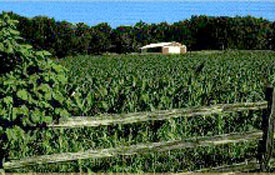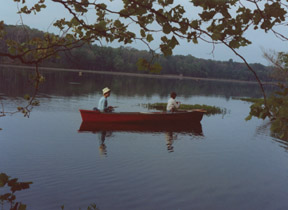 GRAYSON COUNTY was settled in the late 1700s. Among the early landowners was George Washington, who purchased 5,000 acres on the southern shore of Rough River from Henry Lee in 1788. Grayson County became the fifty-fourth county of Kentucky when it was formed on 25 January 1810, from the western part of Hardin and a small, eastern portion of Ohio County. The county was named for Col. William Grayson, an aide to Gen. Washington. Leitchfield, founded as the county seat that same year, was named for Major David Leitch, whose widow donated land for the town.
Grayson County is located in the Western Coal Field region of Kentucky, in the West-Central part of the state, with an area of 493 square miles. Grayson County is partly bounded by Rough River on the north and Nolin River on the southeast, and bordered by Breckinridge, Hardin, Hart, Edmonson, Butler, and Ohio counties. The elevation in the county ranges from 395 to 963 feet above sea level.
Millerstown, on the Nolin River, was the first community to be formally incorporated in 1826; Falls of Rough grew up around the Green Sawmill, which first operated in 1823; and Grayson Springs, a popular summer resort, opened in 1830 and peaked in prosperity about 1900. Three Grayson County Courthoues have burned on 24 Dec 1864, 16 Jun 1896, and 3 Apr 1936, although no records were destroyed in the third blaze.
The Elizabethtown & Paducah Railroad (now Paducah & Louisville) transformed Caneyville, Leitchfield, and other railroad towns into shipping points for agricultural products in the early 1870s. The asphalt plant at Big Clifty served the entire nation, and several large lumber mills were established in Clarkson after 1900. The Walter T. Kelley Bee Hive Factory in Clarkson, which was founded in 1924, is still one of the largest manufacturers of bee-keeping supplies in the country.
County products include lumber, natural gas, coal, tobacco, corn, soybeans, hay, wheat, hogs, beef, and dairy cattle. Numerous light-industrial plants in Leitchfield produce a variety of man-made products that are shipped worldwide. County tourism thrives by virtue of it's proximity to 637-acre Rough River Lake, estabished in 1959, and Nolin Reservoir formed in 1963. Rough River Dam State Resort Park, near Falls of Rough, boasts an airport, fine dining, 40 scenic rooms, 17 cottages, a nearby 18-hole golf course, and other recreational opportunities. The Western Kentucky Parkway, which opened in 1963, provides an essential artery for transportion.
In 2000, the Grayson County population was 24,053 on a land area of 503.68 square miles, an average of 47.8 people per square mile. The population was 16,445 in 1970; 20,854 in 1980; and 21,050 in 1990.